What a journey we have made since the Parkinson's Journey was launched last June! The finish line has been successfully crossed!
The participants and donors showed great energy and endurance. Thanks to their involvement, the Parcours Parkinson allowed Parkinson Montréal-Laval to collect $24,104 in donations.
While this year again we had to adapt to the health context, the Journey was above all marked by ambitious challenges, moments of conviviality and great generosity.
Donations that move the cause forward
Thanks to the donations received, Parkinson Montreal-Laval can continue to offer a range of activities to provide people living with the disease and their loved ones with the services, advice and support they need.
These services and activities include the Info-Reference line, self-help groups, support groups, Practice Your Voice workshops and many others.
The entire team of Parkinson Montreal-Laval warmly thanks all the participants and donors.
Nice challenges!
Behind these figures, there are also and above all committed people. This year, no less than 13 teams were created to participate in the Journey.
Among these teams, there is, for example, the one of Claudie Séguin who set herself an ambitious goal to raise awareness among her loved ones and her community about Parkinson's disease, which has been part of her family's daily life for several years. But for Claudie, it was also an opportunity to take up a personal challenge and to go beyond her limits. Indeed, after several months of preparation (and despite a few unforeseen circumstances), Claudie completed a 25-kilometre run, followed by a 5-kilometre walk with her father, who lives with Parkinson's disease, on October 19. Her motivation, commitment and perseverance allowed Claudie to raise $3,020! With this run and walk with her father, Claudie reminded us of the importance of physical activity to better live with Parkinson's disease.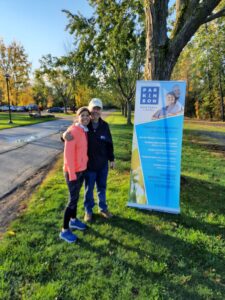 And this year, some teams even went beyond the borders of Quebec! Sharon Brissette, administrator of Parkinson Montreal-Laval, also successfully mobilized her community with her team and her challenge in Victoria, Ontario. On September 19th, in a warm and friendly atmosphere, participants took part in a 5-kilometre walk to promote physical activity and raise funds to provide adapted services to Canadians affected by Parkinson's disease. In total, about 60 people participated in the event and raised over $4,500.
The Parkinson Montreal-Laval team was mobilized throughout the Journey to support you. On September 12th, the team proposed a Facebook Live to warm up and motivate each other. More than 400 people were in front of their screen.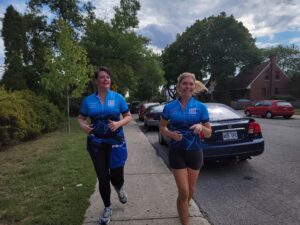 With these great results, the team is more motivated than ever and looks forward to seeing you next year for a new Parkinson's Journey.