Launch of a new tablet lending service for caregivers
Let's stay connected with Connect'Aide, a new electronic tablet lending service for caregivers of people living with Parkinson's disease. It is the result of a collaboration between Parkinson Montréal-Laval, La Coop Ressource Informatique and La Puce Informatique. 8 caregivers from the Montreal area will benefit from the loan of a tablet and personalized support to participate in online activities offered by Parkinson Montreal-Laval. This free service is offered for 6 months and includes mobile data in cases where caregivers do not have access to an internet connection.
A complete service package
Thanks to the complementarity of the three partners involved, a complete service has been set up. Parkinson Montreal-Laval provides the electronic equipment (tablet, headset with integrated microphone) and is in charge of identifying and contacting the caregivers who could benefit from this service. La Coop Ressource Informatique is responsible for the initial configuration of all the tablets. Finally, La Puce Informatique offers personalized support in the use of technology throughout the month of June. This training will allow caregivers to learn how to use the tablet, to understand how to use electronic mail and to become familiar with the Zoom platform to participate in video conferences and with the Hangouts application to chat with relatives and friends by phone calls or text messages. The training will also allow them to integrate basic notions of online security. Finally, virtual spaces will be made available to them so that they can ask all their questions.
And the good news is that there is still a place to benefit from this service. If you are, or if you know, a caregiver of a person living with Parkinson's in the Montreal area, contact us: montreal-laval@parkinsonquebec.ca or 514-868-0597.
Connecting caregivers
With the health crisis, community organizations have had to adapt and change the way they operate. More globally, it is all of our social interactions that have been changed. Face-to-face meetings have gradually been replaced by virtual activities. If there is a lack of human contact, these new technologies have nonetheless made it possible to stay connected. However, when one does not have the necessary computer equipment and knowledge, it is not always easy to maintain social contacts in this sanitary context. Isolation is then a real danger. This is why the L'Appui pour les proches aidants de Montréal had the idea to support this beautiful project which aims to improve the digital inclusion of seniors.
---
Our partners

L'Appui pour les proches aidants was created in 2009 to help improve the quality of life of those providing care to older adults by facilitating their daily tasks and ensuring that they take full advantage of available resources.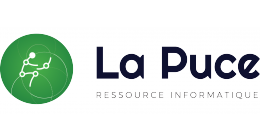 La Puce informatique is a social economy organization whose mission is to offer training in information technology to the population.